5-7th October 2018
#BUDSC18
Bucknell University Digital Scholarship Conference 2018
Lewisburg, PA, USA
Check out #BUDSC19!
Digital Scholarship: Expanding Access, Activism, and Advocacy
#BUDSC18 will bring together a community of practitioners–faculty, researchers, librarians, artists, educational technologists, students, administrators, and others–committed to promoting access to and through digital scholarship. We consider "access" in the broadest possible terms: accessible formats and technologies, access through universal design for learning, access to a mode of expression, access to stories that might not otherwise be heard or that might be lost over time, access to understanding and knowledge once considered beyond reach.
Bucknell University
With 3600 Undergraduate students Bucknell University is a national university where liberal arts and professional programs complement each other.
Celebrating 5 Years
In 2018, the Bucknell University Digital Scholarship Conference is celebrating its fifth year.
Safety and Inclusion
We are committed to providing an environment where all participants feel safe, included, and comfortable at the conference.
#BUDSC History
177
institutions represented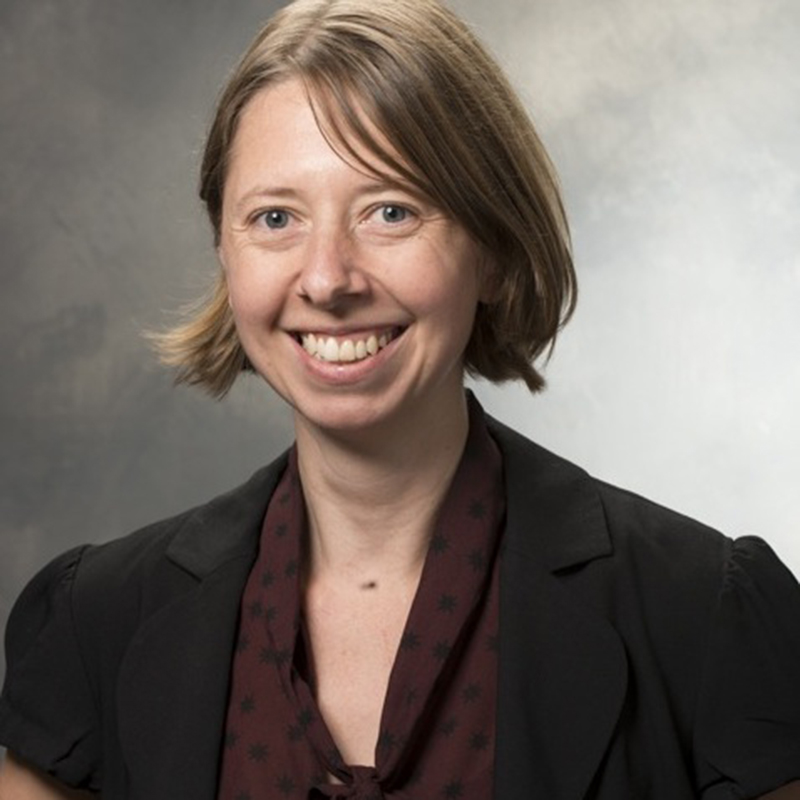 Kelley Kreitz
Assistant Professor of English at Pace University
Kelley specializes in nineteenth-century U.S. and Latin American literary studies, Latinx studies, digital humanities, and comparative media studies as an Assistant Professor of English at Pace University. In her research and teaching, she explores the role of media change past and present in enabling and inspiring shifts in the way we tell stories about current affairs. Kelley is also the co-founder and co-director of Babble Lab, a digital humanities center at Pace that seeks to reimagine how we teach the humanities through the use of data, design, and code and through the study of the new media of the present and the past. She is currently completing a book called Electrifying News: A Hemispheric History of the Present in Nineteenth-Century Print Culture.
Whitney Quesenbery
Co-Founder at Center for Civic Design
Whitney is a distinguished user experience researcher. She has written three books on usability – Storytelling for User Experience: Crafting stories for better design (with Kevin Brooks), Global UX: Design and research in a connected world (with Daniel Szuc), and A Web for Everyone: Designing accessible user experiences (with Sarah Horton). She is also the director of the Usability in Civic Life project. More information about her current projects and experience can be found here.
5th October 2018
3:30pm - 8:00PM
| | | |
| --- | --- | --- |
| 3:30pm – 6:30pm | Elaine Langone Center Hallway | Registration |
| 3:30pm – 5:00pm | Ellen Clarke Bertrand Library Lobby | Campus Tour |
| 5:00pm – 6:00pm | Weis Center Atrium Lobby | Opening Reception |
| 6:15pm – 8:00pm | Terrace Room | Dinner and Keynote Address |
6th October 2018
9:30am - 4:30PM
| | | |
| --- | --- | --- |
| 7:30am – 9:00am | Terrace Room | Full Breakfast |
| 7:30am – 9:00am | Elaine Langone Center Hallway | Registration |
| 9:00am – 10:30am | Various Locations | Concurrent Sessions |
| 10:30am – 10:45am | Elaine Langone Center Hallway | Break |
| 10:45am – 12:15pm | Various Locations | Concurrent Sessions |
| 12:45pm – 2:00pm | Terrace Room | Lunch and Keynote Speaker |
| 2:00pm – 3:30pm | Various Locations | Concurrent Sessions |
| 3:30pm – 3:45pm | Elaine Langone Center Hallway | Break |
| 3:45pm – 4:45pm | Various Locations | Concurrent Sessions |
| 5:00pm – 6:00pm | Terrace Room | Cocktail Hour, Poster and Digital Demonstration Session |
| 6:00pm – 8:00pm | Elaine Langone Center Room | Dinner in Lewisburg Meet Up |
7th October 2018
9:30am - 4:30PM
| | | |
| --- | --- | --- |
| 7:30am – 8:30am | Terrace Room | Breakfast |
| 8:30am – 10:00am | Various Locations | Concurrent Sessions |
| 10:00am – 10:15am | Elaine Langone Center Hallway | Break |
| 10:15am – 11:45am | Various Locations | Concurrent Sessions |
| 11:45am – 12:00pm | Elaine Langone Center Hallway | Snacks |
If you are experiencing difficulty accessing information on this site due to a disability, or if you have questions or concerns regarding the accessibility of content on this site, please contact us at budsc@bucknell.edu
Copyright © 2018 Bucknell University, Library & Information Technology